Dear customers,
We found that HP released two new firmwares 2242A and 2243A to the printers using 91X/96X series ink cartridges via Wifi on November 10, 2022, resulting in replacement chips unrecognized by its applicable printers.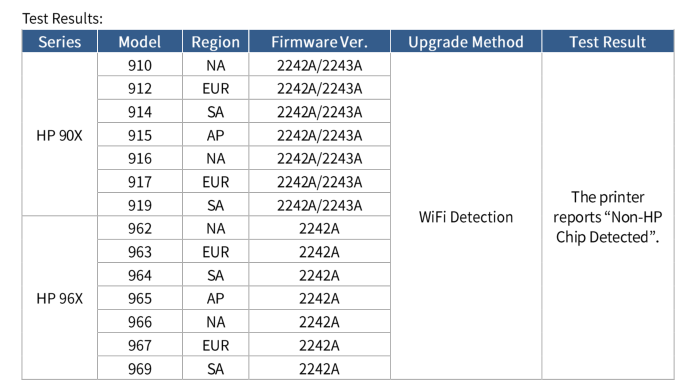 Because firmware upgrade from the original producer is beyond the our control, and can't be prevented in advance by R&D or testing. Therefore, malfunction of compatible products arising from firmware upgrade does not fall into the scope of quality problems.
With years of experience in printer firmware production and close cooperation on the chip supply side, We will keep you posted on the progress as soon as we resume produciton and obtain the latest upgrade solutions from the chip manufacturing side.
1. For the 91X/96X series that has not yet been shipped in our factory, we will complete the replacement of the new chip for all related old chip products, and then arrange the shipment.


2. All online retailers and channel customers are advised to sell existing products as soon as possible.


3. Given the upgrade issue, customers are advised to inform end users to disable Automatic HP printer Firmware Updates and don't take the initiative to download the new firmwares to avoid affecting the normal use of their cartridges.

4. If the customer finds that the product cannot be recognized by the applicable printer, please contact our sales immediately.